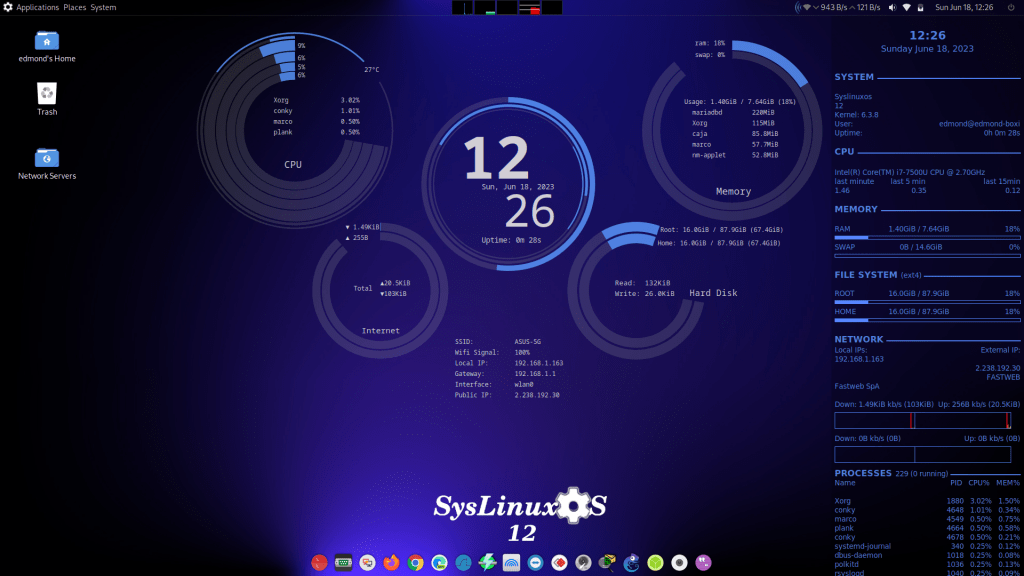 SysLinuxOS 12 for System Integrators:
Improved and Enhanced
Following the release of Debian 12 Bookworm, SysLinuxOS 12 (for System Integrators) is now available with several enhancements and new features that set it apart from Debian 12. Some of these improvements are under the hood, providing additional functionality. SysLinuxOS 12 comes with the Mate desktop environment as the primary option, while the version with Gnome will be released later.
Desktop:
In terms of aesthetics, two Conky widgets have been integrated, which not only enhance the desktop's visual appeal but also provide useful information about PC performance, network status (including private and public IP addresses), and running processes. Additionally, the menu has been reorganized based on the utility of the programs. A new menu called Networking has been introduced, which includes tools for network analysis. These tools are primarily GUI-based, while command-line alternatives are also available. Mate offers a simple, organized, and fast desktop environment.
Security:
Various firewalls have been integrated by default, including Gufw, Firewalld, Opensnitch, and Shorewall. Suricata is included as the Intrusion Prevention System (IPS). Firejail, Firetools, Firewalk, and more are also present, further enhancing security measures.
Networking:
In addition to Packet Tracer 8.2.1, GNS3 is available as an alternative for network simulation. Sparrow Wifi has been included, and beneath the surface, all the tools for network scanning and testing are present.
Monitoring:
SysLinuxOS 12 includes a comprehensive set of monitoring tools, such as Cacti, Fail2ban, Icinga, Monit, Munin, Nagios4, Zabbix-Agent2, and Zabbix-Fronted, among others, ensuring effective system monitoring and management.
System:
The kernel has been upgraded to version 6.3.8 stable. Unlike Debian 12, OS-Prober is enabled by default in SysLinuxOS 12 to recognize other operating systems installed on the system. Network interfaces are recognized by default as Eth0, Wlan0, etc. Additionally, there are other hidden differences that will be explored in detail later.
SysLinuxOS 12 for System Integrators provides a robust and feature-rich operating system, designed specifically for professionals in system integration. With its enhanced desktop, improved security measures, advanced networking capabilities, and comprehensive monitoring tools, SysLinuxOS 12 offers a reliable and efficient platform for system integration tasks.
SysLinuxOS 12 for System Integrators:
Login:
user = admin
password = root

enjoy 😉