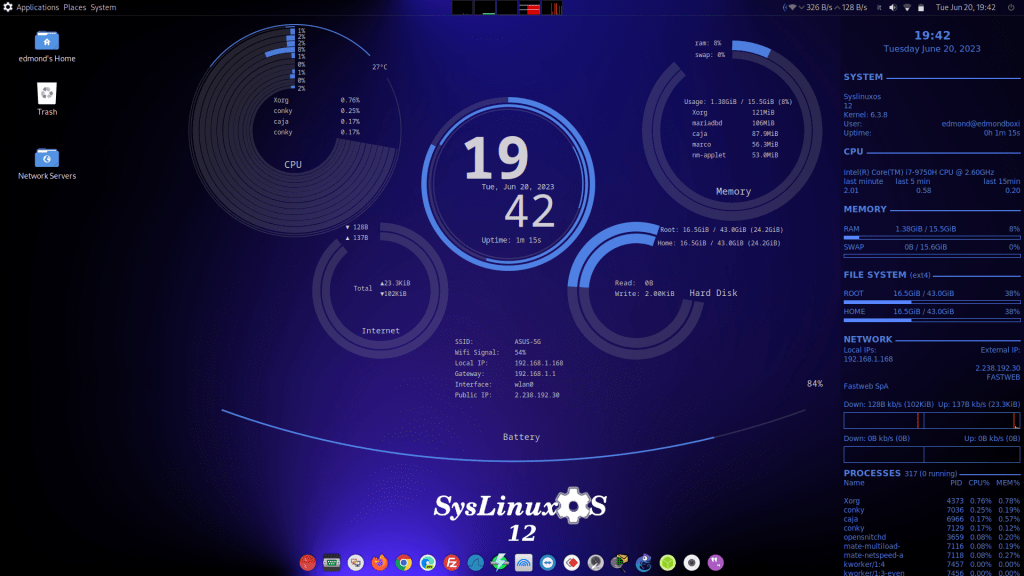 Things to Do After Installing SysLinuxOS 12
A few important things to do after installing SysLinuxOS 12. If you use SysLinuxOS 12 on your laptops or desktops, there are a few steps you might want to do after installing SysLinuxOS.
1) Connect your PC to the Internet and then mandatory
sudo apt update
sudo apt upgrade -y
sudo usermod -a -G dialout $USER
sudo reboot
Now your network cards will be eth0, wlan0. If not, run the script manually:
sudo /opt/scripts/rename-interfaces.sh
sudo reboot
2) Conky
With Conky enabled you can use the portion of the desktop on the left, if you want temporarily disable conky
killall conky
permanently on Mate:
go to System-Preferences-Personal-Startup Applications and uncheck "start_conky.desktop" and reboot.
Auzia conky is located in /opt/auzia-conky/ and as default network card it uses wlan0, to switch to eth0, edit the settings.lua file. The second conky is in the standard path /etc/conky/conky.conf.
permanently on Gnome:
go to Accessories-Stacer-Startup Apps and disable/delete it
or
Application-Utilities-Tweaks-Startup Applications
WARNING
I've read about some problems with the 6.3.8 kernel, with the nvidia drivers, I recommend for those who use them or for those with other problems (virtualbox) to downgrade, and use the kernel from the repositories
sudo apt install linux-image-6.1.0-9-amd64 linux-headers-6.1.0-9-amd64
Kernel 6.3.8 removed in SysLinuOS 12.1, now kernel 6.4 from backports repo.
The page is constantly updated.
enjoy 😉